BOSTON TRAUMA
HEALING COLLABORATIVE
The vision of Boston Trauma Healing Collaborative is to develop an integrated strategy that draws from the strengths of current trauma healing programs (both locally and nationally), to train and equip churches and communities to become more trauma-informed as they respond to wounded people and unacceptable realities that are often rooted in trauma.
Trauma is often a root cause and barrier to personal and community spiritual, emotional, mental and physical health

Almost all of us have experienced some form of trauma, grief, or loss.  Left unaddressed it holds us back from being all that God created us to be as individuals and as communities
This integrated strategy includes a collaborative effort between BTHC, as a local partner with the American Bible Society and the Trauma Healing Institute, and the Cory Johnson Program for Post-Traumatic Healing and their Can We Talk… Network, which will help encourage churches and non-profit organizations to work together to bring healing to those wounded by trauma.

Churches that are trauma-informed not only help their own congregants to address their wounds of the heart, but they also reduce the possibility of harm happening to traumatized individuals by ill-equipped volunteers rather than guiding them on a path towards healing and an opportunity to experience the life changing message of the gospel.
Free trauma healing resources –

https://www.traumahealingbasics.org/

What is a THI/ABS Trauma Healing Group? (see attached pdf, Bible-based Trauma Healing)

Find a current trauma healing group meeting – online or in your area (post registration links here)

How can I become a facilitator? (see attached pdf)
Specialized Trauma Healing Groups
People incarcerated in jails and prisons' returning citizens

 

Refugees

 

Anti-Trafficking

 

Trauma Healing for Children 

 
Boston Trauma Healing Collaborative (BTHC) continues to grow and reach more people through our partnership with the American Bible Society (ABS) and the Trauma Healing Institute (THI). BTHC now has a Master-Facilitator-in-Training, 2 Training Facilitators, 4 certified Trauma Healing Group Facilitators, and 20 Apprentice Facilitators – 9 of them trained since the beginning of 2022. These 27 facilitators represent 15 different churches in Greater Boston. 
One of the newest churches to become engaged is High Rock Church in Arlington. They now have five apprentice facilitators representing two of their campuses. While they are very interested in the healing journey among the High Rock community, they also have a vision for utilizing the trauma healing curriculum to serve incarcerated men and women and the previously incarcerated (returning citizens). 
An additional training facilitator helps lead an Anti-trafficking Community of Practice to walk with those who have experienced trauma associated with abuse, exploitation, and the vulnerable to being trafficked. 
If you are interested in learning more about any of these initiatives or how you or your church/organization might become more involved in trauma healing, please reach out to Dana Baker, Director of BTHC, at [email protected] with any questions. You can also check out these free trauma healing resources from THI Here. 
Children's Trauma Healing Comes to Boston
Many have experienced trauma over the last few years, including children. Boston Trauma Healing Collaborative partnered with Rochelle Jones, the Director of Education for BMA TenPoint's Victory Generation and Vision New England (who provided the funding) to bring the Trauma Healing Institute's "Healing Hearts Club" to Boston. Fifteen children attended the camp, benefitting from games and stories to help them better understand their pain and learn healthy ways to heal. 
Facilitator training: Four people trained in the children's curriculum over an intense three days. The training was provided by Quest Movement in New Jersey, one of the American Bible Society's trauma healing partners. When adults suffer, children suffer doubly. This training helped to prepare the facilitators to work with children who may be recovering after traumatic events like death, abuse, and other forms of grief.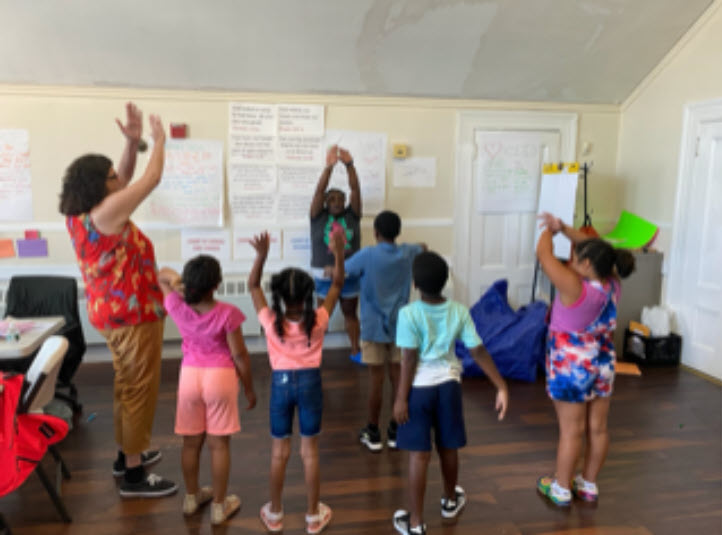 "I love the music and dancing in the mornings."
Children's Trauma Healing Camp
The five-day Healing Hearts Club Camp offered children (ages 8–13) an opportunity to learn about the wounds of their hearts, and taught them how to understand their heart pain in a way that can move them toward healing. Topics included: I am important to God; Why do bad things happen?; Saying how you feel; Feeling lonely; Taking our pain to the cross; and more.
The children's camp was a great success. Many parents saw a tremendous change in their children. Here is some of what the students said at the closing ceremony at the end of the week. 
I really like the stories in the book about Sam and Rose.

 

The bible stories were awesome…I liked doing the skits about Joseph

 

Some of these lessons reinforce what my therapist says

 

I loved the art projects, and the games were really fun